With an opening date that's fast approaching, additional details surrounding The Middle House, a highly anticipated new residence and hotel, are slowly emerging.

The project is a part of the new Taikoo Hui plaza, a "lifestyle" mall with two Grade A office towers and an additional boutique hotel, The Sukhothai Shanghai.

Extensive care has been taken to develop the plaza, which covers an expanse of around 100,000 square meters in one of Shanghai's top shopping districts.

The massive, grand-scale project was made possible, in part, through the combined effort of HKR International and Swire Properties.

"You simply don't get many opportunities to develop a prime site like this very often," says Clarence Lee, the general manager responsible for Taikoo Hui.

The Middle House, which is comprised of two towers that are connected underground via a luxury health and wellness facility, covers an expanse of around 322,000 square meters.

The first tower has 111 hotel rooms, and the second tower has 102 serviced apartments. Both were designed with painstaking care by famed Italian architect Piero Lissoni.

Lissoni, who was inducted into the Interior Design Hall of Fame in New York in 2005, appealed to project managers with his sleek design style and his reputation for being able to balance the old with the new.

The goal was to blend Chinese and European design elements into a mélange of local cultural notes and contemporary functionality.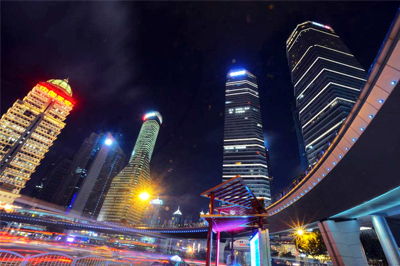 "I try to think in terms of contemporary architecture, even if my starting point is the observation of the traditional element in Chinese culture," Lissoni says.

Custom-designed furnishings were made especially for The Middle House. As were the wooden panels that are meant to slide together to create additional, private spaces.

A collection of over 700 original art pieces by 23 Chinese and International artists are displayed throughout the two towers. One piece, a Wei Jin Nan Bei Dynasty robe with 12,000 handmade porcelain butterflies, was created by a Shanghainese artist over the course of six months. And then there's the six-meter-high, 3,760-piece chandelier that was produced by a Venetian glass master over the course of half a year.

Throughout the two towers a somber, minimalist color palette is offset by clay floor tiles, stone, wood, and porcelain. High-ceilings and green bamboo pattern ceramic wall tiles also feature heavily.

"Following the success of The House Collective in Hong Kong, Beijing and most recently in Chengdu, we are very excited to introduce The Middle House to Shanghai," says Brian Williams, Managing Director of Swire Hotels.
For more information about Shanghai apartments for rent, please follow our website.