Mobile Talent Spurs Serviced Apartment Rental Boom
The global working force is on the move in a way unrivaled in history. The time-honored tradition of sending established professionals overseas to help build and oversee company global hotspots continues, but companies are also beginning to send waves of employees abroad for short-term work assignments.

According to Crown World Mobility's recent Global Mobility Trends report, it is millennials who are leading the pack. Eager for adventure and resume-buffing international experience, young workers are increasingly pushing for a turn abroad.

Lisa Johnson, Crown's Global Practice Leader for Consulting Services, said, "Low-cost adventure moves are becoming more popular. Indeed, more than half of companies now have employee-initiated move policies."

And that's not including the rise of remote workers who, blessed with the ability to work from anywhere, are using the opportunity to take their work on the road and experience life in new places for days or months at a time.

Nowhere are these trends more apparent than in the Asia-Pacific. Western companies have long been captivated by the region's potential for market growth and innovation. At the same time, intra-regional business travel has been ticking up. Malaysia, Singapore, Indonesia, and the Philippines are all common destinations. China, meanwhile, is both a leading destination and a source country of outward-bound expatriates.

But while workers and companies have been pushing for increased mobility, it's the growing network of services that has made it a viable possibility for such a wide range of companies.

With the surge in temporary assignments, serviced apartments in particular, have become a vital links within the web of services. And as global mobility has risen, quality and variation in services has also risen.

Ascott's CEO, Kevin Gohn, reported, "We see tremendous opportunities for serviced residences in Asia-Pacific. More than 80% of our serviced residence units are in Asia-Pacific and China is our biggest market."

And it's not just foreign assignees pushing up profits. China's growing middle class is full of individuals with a taste for luxury and ease-of-living. With a try-before-you-buy mentality, many families choose to live in serviced apartments 'to get a feel' for the neighborhood before purchasing a nearby property. Others simply prefer the comfort of a serviced apartment as they go about their daily lives or go on domestic and international trips.

While there is a whole range of housing options for international assignees, Goh believes that serviced apartments offer the best combination of pampering and security.

"In the hospitality business, it is the people who make the difference. Ascott staff work hard to ensure the wellbeing of our guests as we create memorable home-away-from-home experiences," Goh said.

According to Goh, the serviced apartment sector is blooming in many of China's key cities, including Shanghai, Guangzhou, Beijing, Chengdu, Kunming, Chongqing, and Xiamen.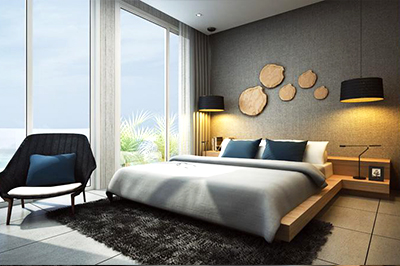 Booming growth has given Ascott and other companies the opportunity to test out new technology and trends. In Ascott Raffles City Beijing and Ascott IFC Guangzhou 'butler' robots are making an appearance, guiding guests around the property and assisting the staff with simple tasks. Smart devices are also being designed to learn guests' preferences and adjust rooms' settings accordingly.

As growth continues to expand, serviced apartment providers are expected to deliver an offering of ever more sophisticated and luxurious options.
For more information about Shanghai apartments for rent, please follow our website.