John Portman, the world-renowned architect who redefined hotel designs and transformed skylines, died on Friday, December 29th at the age of 93. No cause was given.
From the Peachtree Center in Atlanta to the Embarcadero Center in San Francisco, many of his projects have long captured the public's adoration. His buildings – known for their modern design and glassy elevators – have featured in a number of dystopian Hollywood films over the decades, including Hunger Games, Divergent, and The Walking Dead.
His projects were not always well-received by critics, who called them "hulking" and "bombastic". Portman was unmoved. He believed in his work.
For more information about Shanghai apartment renting , please follow our website.
Of his elevators – an iconic feature of many of his projects – he said, "You get on a closed-in elevator, everyone looks down at their shoes. A glass elevator lets people's spirits expand. Architecture should be a symphony."
It wasn't just what he did, but how he did it. While other architects dealt with projects as they came, Portman hunted them. He would take an idea and go ahead and secure the land and the financing. He reportedly told students in a 2010 lecture at Harvard that this ensured that there would be "no damn question about who's going to be the architect".
By the 1980's he had begun branching into India, China, South Korea, Singapore, and Malaysia. In China, two of his projects would become known as some of his best: Shanghai Centre and Beijing Yintai Centre. Portman would later point to a chance encounter with Deng Xiaoping in Atlanta in 1979 as the key to his later success in the mainland.
The Shanghai Centre, which would later be labeled by China Daily as "one of the five architectural stars in mainland China", is located in Jing'an District. It has three towers that rise from an eight-story base. It was one of the first modern skyscrapers to be built in Shanghai.
The complex hosts over 470 apartment units, 30,000 square meters in office space, an international supermarket, a 5-star hotel (The Portman Ritz Carlton Shanghai), and a range of department stores, cafes, and restaurants. The centre is also home to a number of foreign delegate offices, including a satellite office belonging to the Consulate-General of the United States.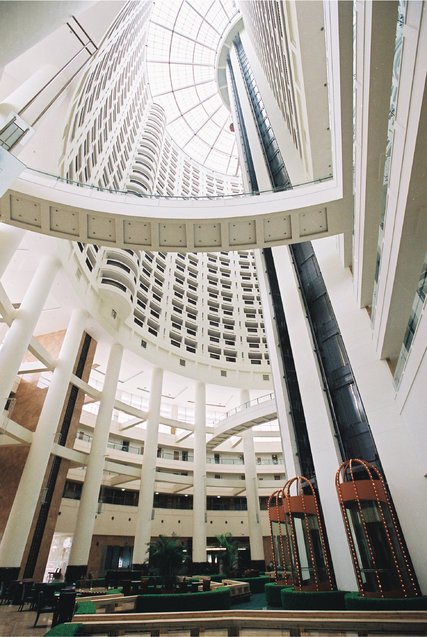 The Beijing Yintai Centre, meanwhile, is a three-tower structure in the heart of Beijing's central business district. The three towers are said to emulate the Chinese character 品,meaning 'quality'. Its main tower is about 250 meters high, and it's occupied by Park Hyatt Beijing, penthouses, and residences. It's crowned by a cube that is better known as the 'Chinese Lantern'. Beijing Yintai Centre was, at the time of completion, the tallest building in Beijing.
As for Portman, he never retired, saying, "A fish got to swim and a bird got to fly."
Maxviewrealty, as the historic Shanghai real estate agency, has rich experience and advanced processes in housing rent in Shanghai.