Huaihai Road
The 5,500-meter longHuaihai Road is an east-west main road of the former French Concession,which was built from the South Xizang Rd. in the east,to the Huashan Rd in the west. All along, Huaihai Road is the most recognized local and exotic accent road in Shanghai.The Middle Huaihai Road between North Shaanxi Rd. to Xinguo Rd is in the section of Xuhui District, comparing with the prosperity of its eastern commercial section,Huaihai Rd is the most elegant and luxuious residential area in Shanghai.Even though the long street is less than 2.5km,there are more than 20 buidings lined on the two side,which is clssified as"Shanghai outstanding historic building".Among these buildings,it includes some famous housing and old appartment,like Consulate General of the United States in Shanghai and Consulate General of France in Shanghai,former Residence of the Shanghai Soong Ching Ling,Gascogne Apartments,Huaihai House,Wukang House and so on..Besides,it also includes some fantastic view of lane,that wewill introduced as follows.
Xinkang Garden and Shangfang Garden,which located in adjacent area,is the most special lane in Huaihai Rd.These two building's designer is Moorhead&Halse Architects.Being the Masterpiece of the Shanghai lane,these gardens are characterized by the usage of lane,villa and apartment.
Built in 1934, Xinkang Garden is located on No.1273 Huaihai Rd, which belongs to the Shanghai cultural relics protection units.The main lane runs through Middle Fuxing Rd and Middle Huaihai Rd.Step into the main lane from the side gate in Middle Huaihai Rd,there are 11 two-storey buildings on the two street side by side,that is each building arranged two dwelling units.The upper and down storeys have separate openning doors,so as to keep their privacy.There is a big balcony on the north side in the second floor,and entrance hall of the semi outdoor space in the ground floor.It has typical Spanish architecture.,such as red brasses,spiral column of balcony, style of continuous arch under the eaves.Located on one side of gate closed to Middle Fuxing Rd,four five-storey appartment is arranged around the axis of the main building, forming square space,whereas each main entrances are in the centre of its openning space.It reflects the simplicity of modern artistic style as follows, brown brick adhering on the surface of the building,cement mortal plastering on the second floor above, light green paint of wall, accessible flat roof with symmetrical designing and corner windows.
Shangfang Garden is located on No.1285 Middle Huaihai Rd,being separated from Xinkang Garden only by a wall.As a private garden orginally belonging to British Jews-Shafa is also called"Shafa Garden".After Zhejiang branch of Industrial Bank bought this land in 1933,it is named "Shangfang Garden" which built separately in 1938 and 1941.It consists of 74 three-storey buildings with the layout of determinant in the lane.The type of building is townhouse,connection and independent with each door number of each unit.Shangfang Garden has its various architectural stype,both Spanish and simple modern style.The exterior wall is fined with granular bump and brushed with beige painting. Decoratied with architectural details,the room is bright with an arc-shaped,ctagonal and rectangular steel windows, it is so lovely.There are soft lines of fine balcony at the floor-to-ceiling windows,rafined gate, window, balconies, railings and hardwooden floors,this compound has a variety of living facilities.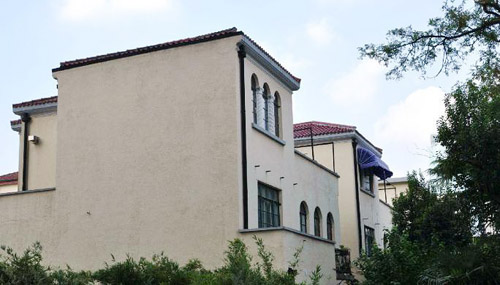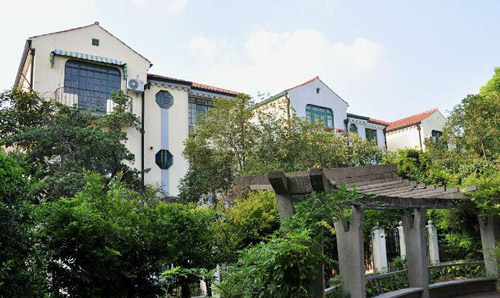 Located on No.1350 Middle Huaihai Rd,No.1-15 Yuyaun is built in 1941,No.16 lste than 1941.This lane house is the famous Shanghai outstanding historical building.Its layout is four rows and sixteen buildings totally,the breadth is 4 meters so as to keep cars going easily.The buildings are three-thoery in the lane,its type is independent,duplex and townhouse,and each house has a small yard on its south direction.living in No.1-15,stepping into from the gate of No.1350 Middle Huaihai Rd.;as the office of Shanghai Municipal Health Bureau Health Authority,the building of No.16 has already gone from No.280 Changshu Rd.This building is used hipped and red cap mechanism watts.The surface of the building is used cement mortar and brick brown,and using white stripe in the junction of the two materials of the windows so as to form an apparent level line, it belongs to modern architectural style.
As N0.1487 Huaihai Rd,Shanghai Xincun is located between two buildings of Consulate General of the United States in Shanghai and former Consulate General of Japan in Shanghai,of course,its regional location is illustrious. Built in 1939,the group of buildings is the famous Shanghai outstanding historical building.There are 56 buildings are detaminsted in the lane,which is composited of complex structure.These townhouse are modern architectural style,including three-storey,slop top,cement mortar walls,simple facades,and non-ornament basically.It has the feature of typical characteristics of Shanghai Lane.The old Shanghai middle class is preferred to choice this kind of residence.
Being located on No.1610 Middle Huaihai Rd, Yat Chuen is a lane house of Spanish style,which was completed by 1942.It is Shanghai outstanding historical building. Even though Middle Huaihai Rd is heavy,owing to the long and deep lane,stepping into the Yat Chuen,you will feel calmly.These 8 housing are arranged along both sides of the spacious lane road, incuding gentlerly sloping roof, spiral windows columns, iron fence, eyebrow jewelry of the doors and windows,all these architectural elements are passed the Spanish architecture style.The silvered high building,which located on the opposite of the road,is Shanghai Library nowadays.It is the famous "Milk Shed" on its orginal address.In the old days,it has a very popular Shanghai Bund 'open meat dirty' for us to come here to taste the whipped cream.In my memory,the milk we drank to grow up is all producted from this factory.When we go by it, we can see many Holland dairy cows that balck and white plaque on their body were kept inside the yard of the factory,so in my childhood ,we call here is "milk shed".Perhaps that is why we think of "milk shed",we would associate it with Yat Chuen, therefore, Yat Chuen is being impressed depply in my mind.
Located on No.1670 Middle Huaihai Rd,Zhongnan Xincun is built in 1941.As Shanghai outstanding historical building, Zhongnan Xincun is a lane house.The architecture style of these residence is familiar,they are all consisted of hipped red tile roof, light-colored glazed tiles on the facades, cement fake stone veneer, water line and so on.Each residence has its own small yard.The wall of the yard on the east side is closed to the quiet Hunan Rd,the location and environment of Zhongnan Xincun is really excellent.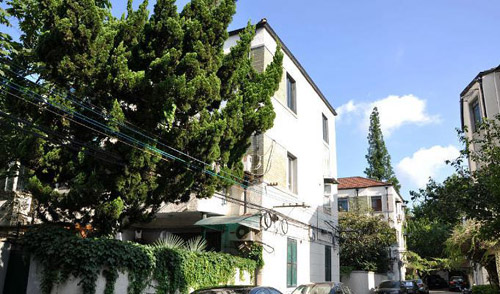 Old houses for rent on Huaihai M. Road